Alpine Trail
The Alpine Trail is a 29" wheeled full suspension bike built for the all day enduro rider that earns their downhill fun.
Enduro/All Mountain
Big mountains, epic passes, and all day ripping descents. If you live for the alpine adventure and gravity-fueled downhills, look no further than the Alpine Trail series. Updated for 2021, and built around the longest travel version of our critically acclaimed MultiTrac platform with progressive slack headtube/steep seattube geometry, low-slung aluminum or carbon frames, and 29" wheels, the Alpine Trail is here to conquer all singletrack in its path.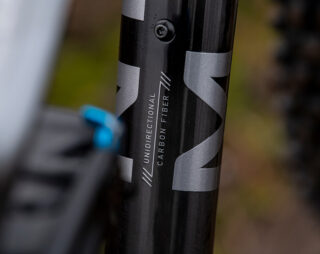 UNIDIRECTIONAL CARBON FIBER FRAME
Alpine Trail Carbon 1 and 2 models feature high modulus carbon fiber and monocoque construction to deliver the strongest and stiffest Alpine Trail to date.
Alpine Trail models feature Series 4 aluminum frames, with detailed forgings, highly manipulated tubes, and full internal cable routing, giving the rider the highest-end alloy frame that Marin offers.
Learn More
ONE PIECE FORGED ROCKER
The heart of the Alpine Trail's MultiTrac suspension is the forged one-piece rocker link. The strength and stiffness of the rocker keeps the rear of the bike tracking straight, providing smooth suspension operation under the most demanding conditions.
BRIDGELESS SEATSTAY
The stiffness of the one-piece rocker link allows for a bridgeless seatstay design, offering zero compromises on stiffness while at the same time allowing for maximum tire clearance and short chainstays.
MODERN ANGLES
The Alpine Trail has a slack 63.5º head tube angle paired with a steep 78º seat tube angle and long reach to provide the best modern trail bike experience. The bike lets you climb better than ever before, while giving you even more confidence when descending.